Quincy Drawing Robot Toy Educational Toy For Kids
Technology
Every child can be an artist.
Quincy is a drawing robot to help unlock kid's talent and unleash their full potential early. It creates the best visual experience for kids as all of our arts are designed with the style of British painter's selection of drawing. Quincy is like a little "home teacher" for arts education and enables kids to become familiar with and deepen their knowledge of drawing.
QUINCY - THE ROBOT ARTIST
Designed for kids ages 3-8
Quincy is an educational robot toy. It helps the kids to learn drawing, alphabet, spelling, counting, math, subject recognition and more.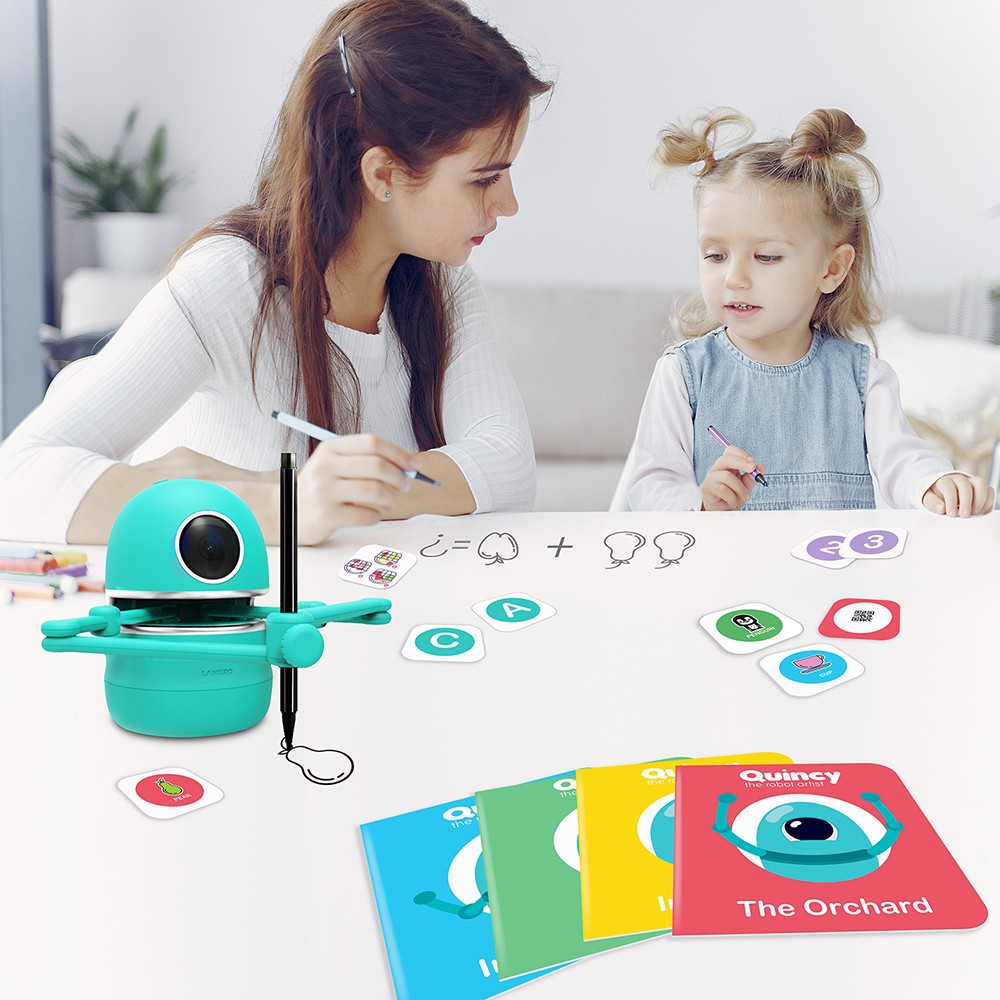 1. The first drawing lesson for kids
Show any drawing card to Quincy and this drawing robot will start to draw the picture step by step.
2. Having fun with Quincy in the ABC world
Quincy can do the spelling teaching. After kids finish drawing of each picture, the robot toy will lead kids to use letter cards to spell it out letter by letter.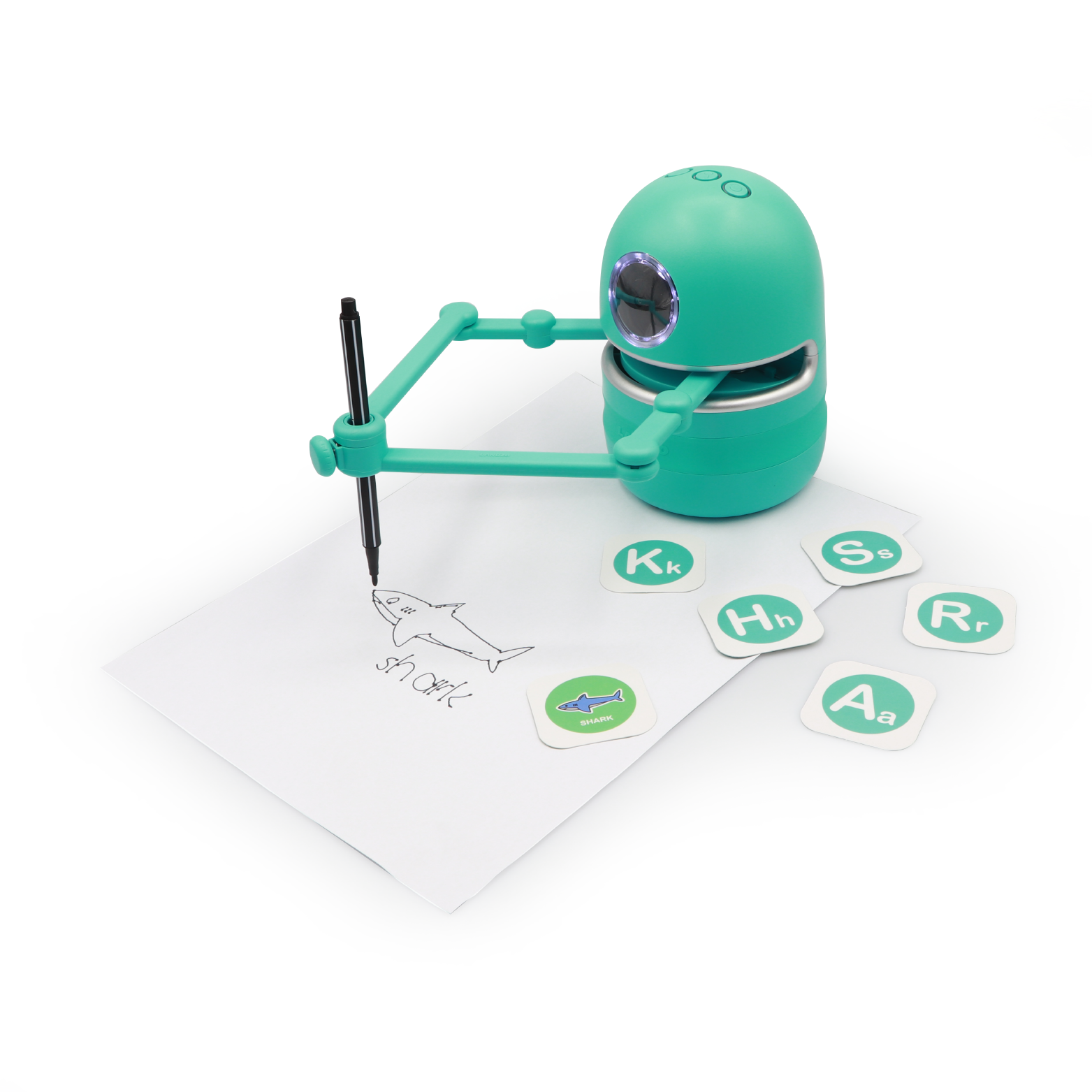 3. Playing counting and math puzzles with Quincy
Quincy is good at math counting. Scan a math challenge card, Quincy will draw and tell a story, then Quincy will ask math questions. Figure out the correct answer and scan the number card.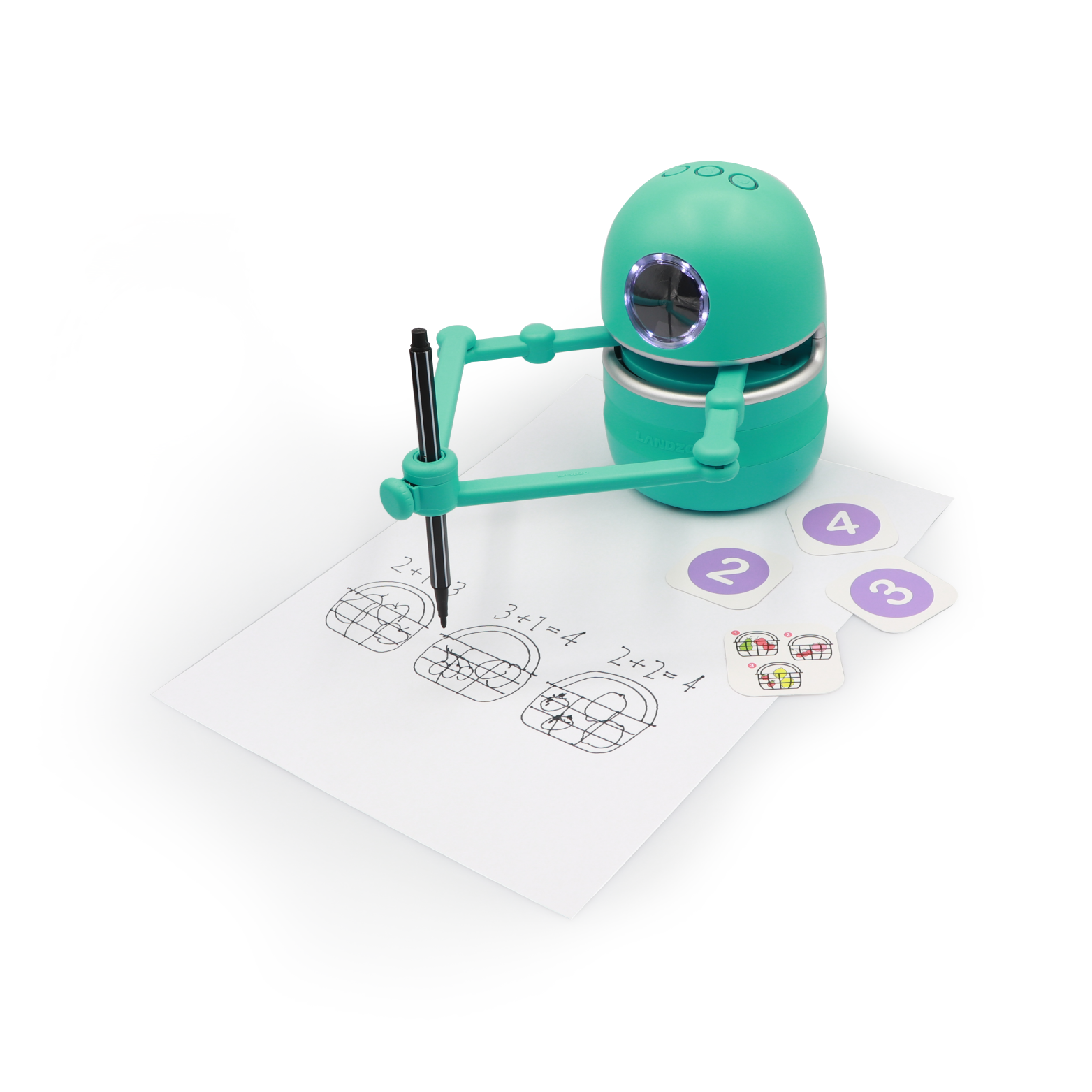 4. Multiple languages available
10 different versions provided, including Russian, Arabic, French, Spanish, German, Japanese, Hungarian, Italian, English and Chinese.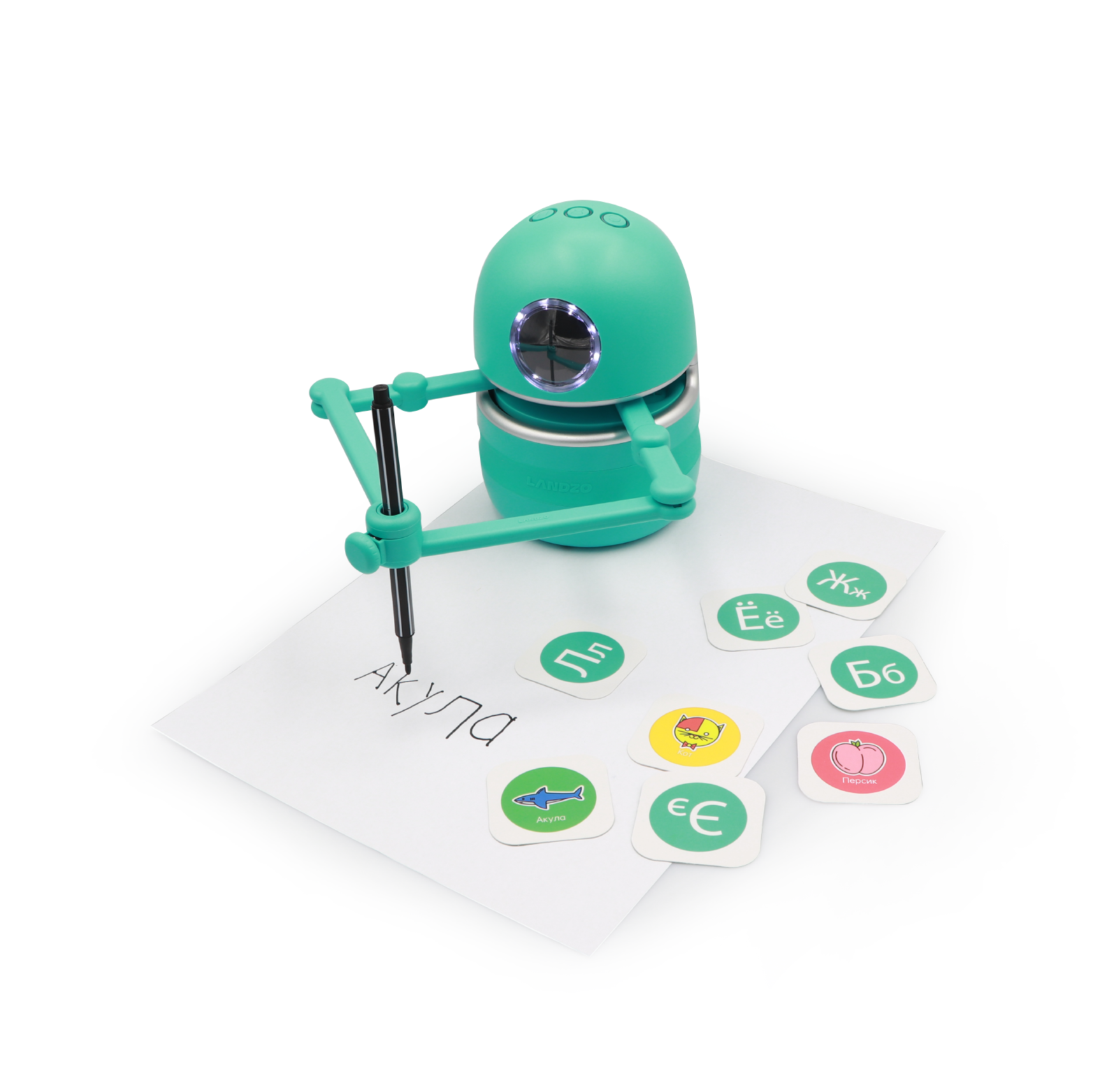 5. Exquisite design of Quincy
1) Suction cup design prevents the machine from accidentally falling.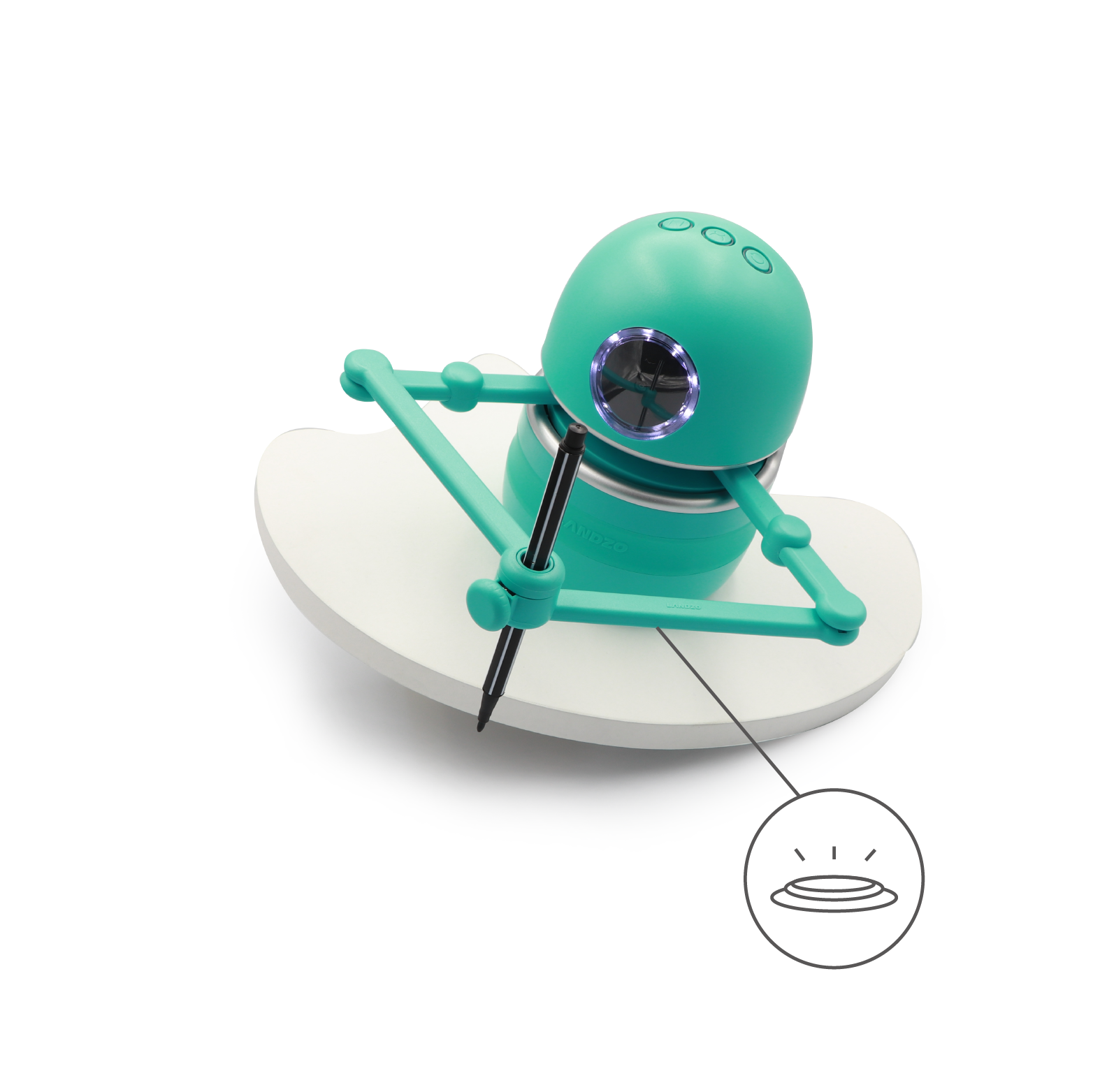 2) Magnetic arm design prevents the arm from breaking when dropped.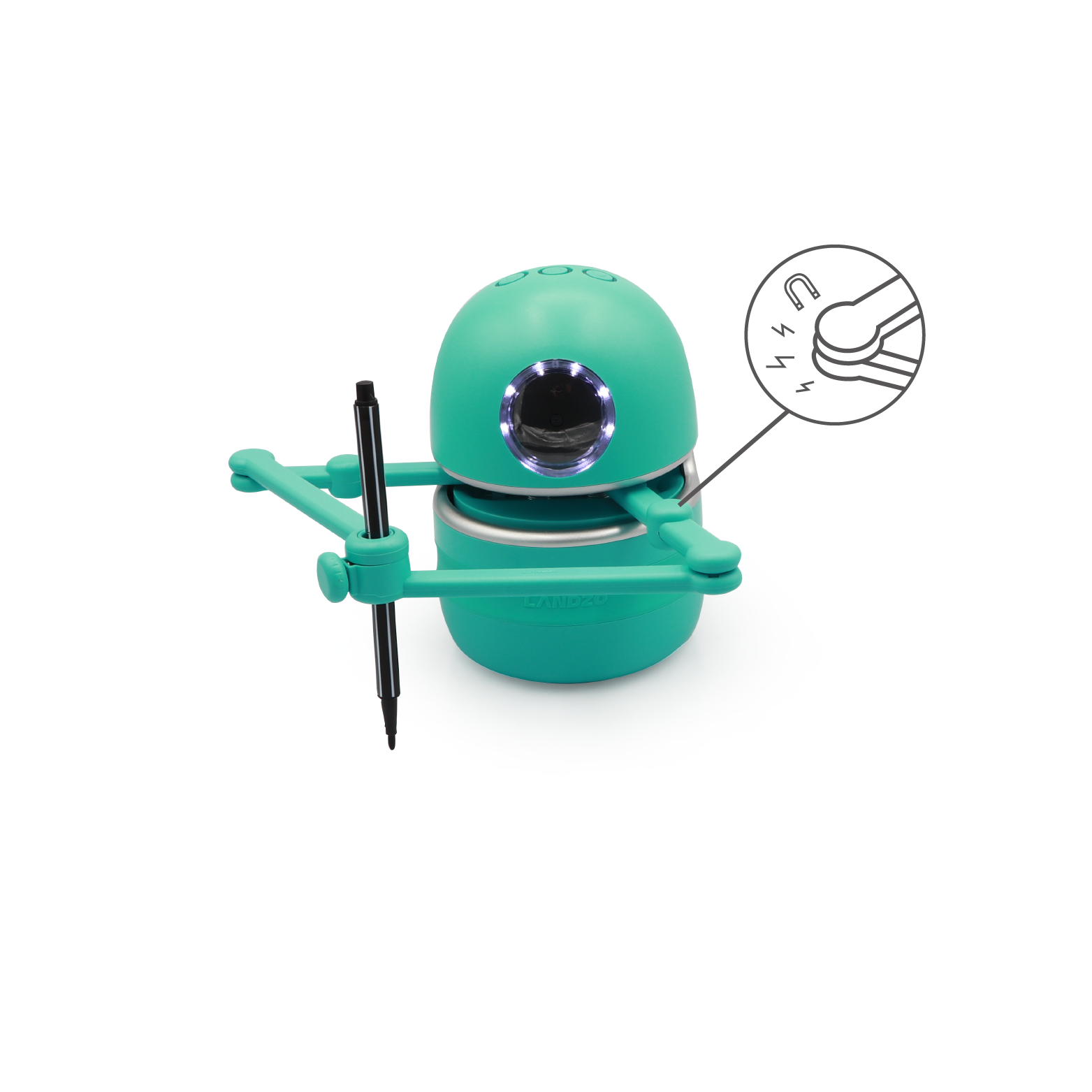 3) 0.5s lnstantly recognizing pictures and start to draw right away.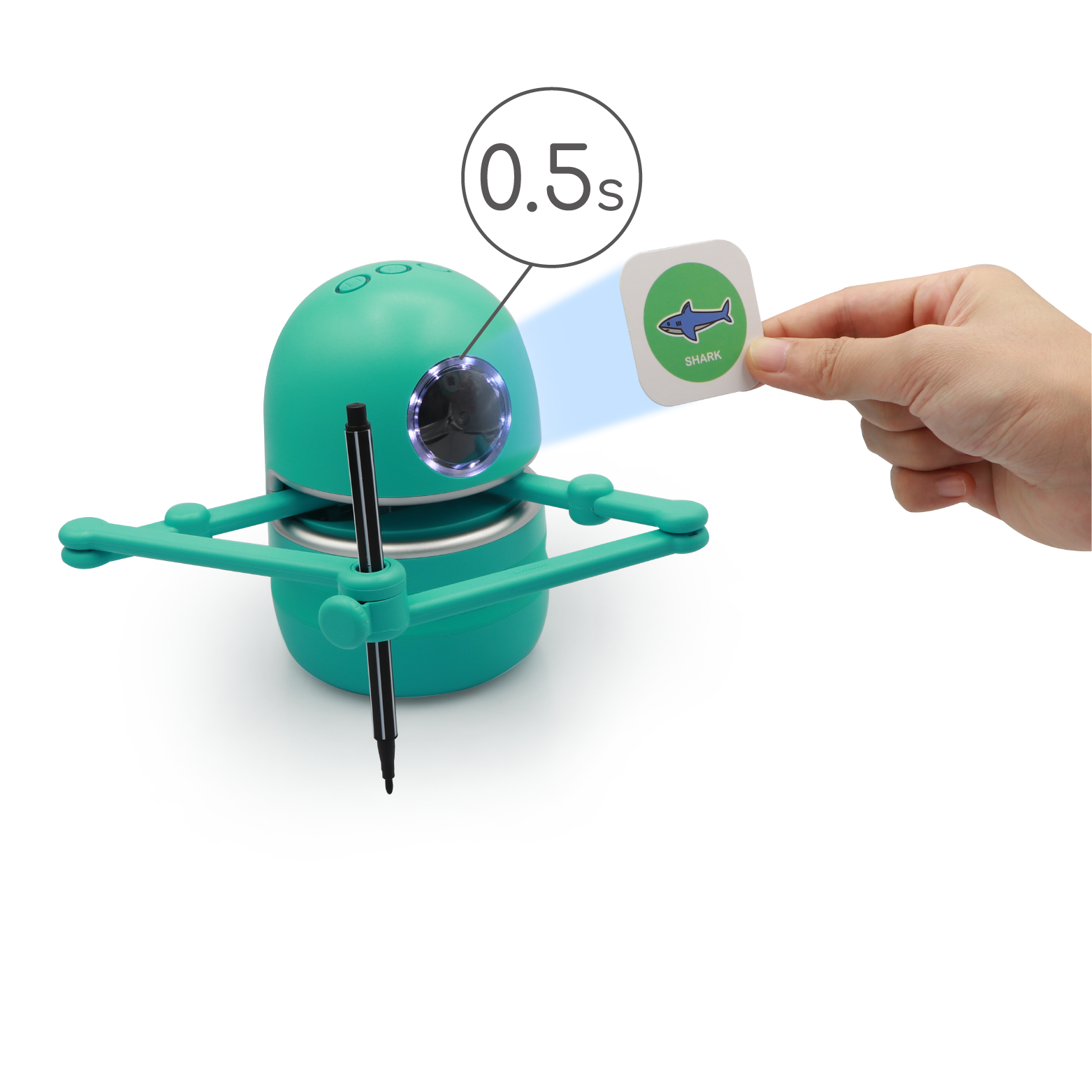 6. Various color selection of Quincy
Green / Yellow / White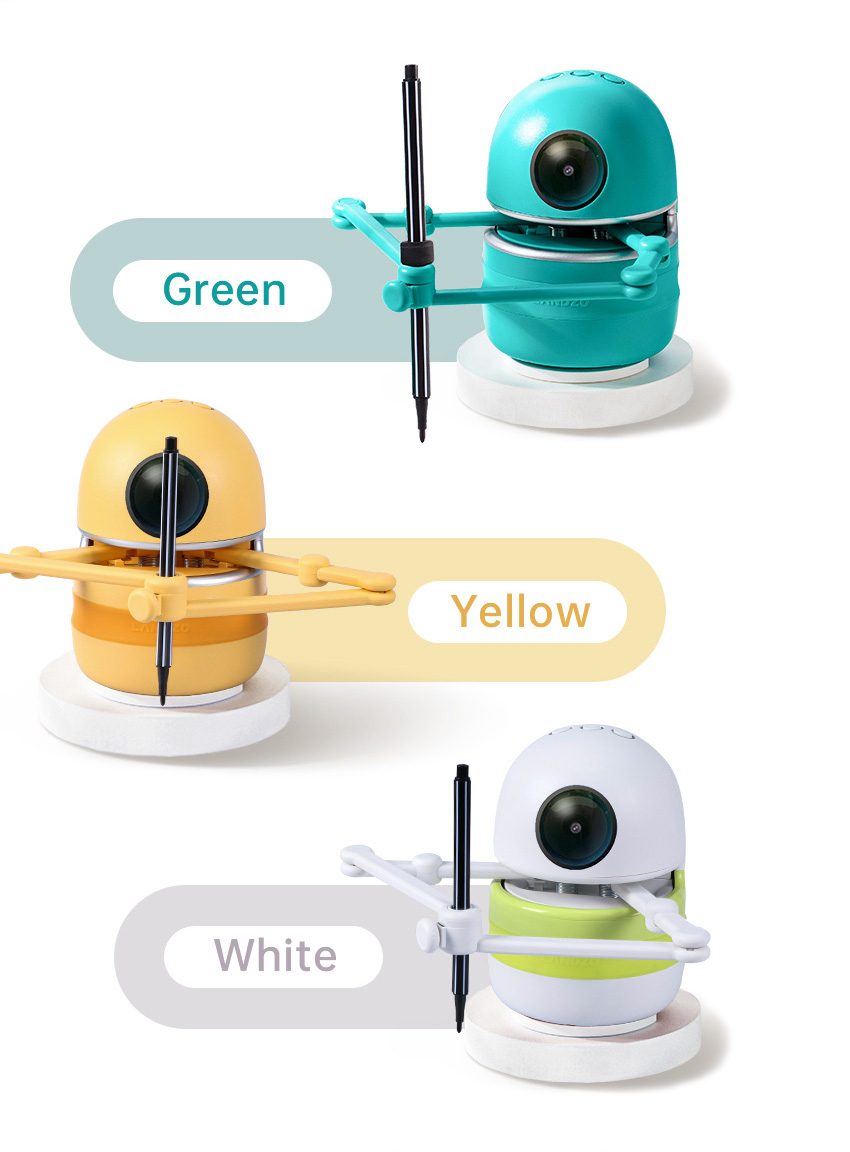 7. How does it work?
With 4 easy steps, we can learn how to draw.
Prepare your pen and paper. Start drawing by show the drawing card to Quincy's eye.

When the light is flashing, press NEXT button for next step.

Draw with Quincy step by step.

Complete the work.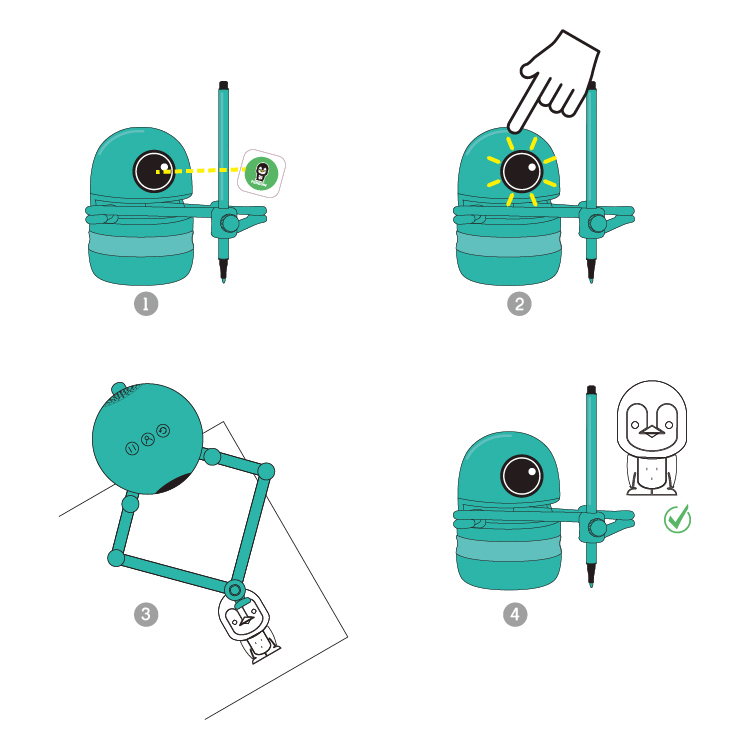 8. Specification
Product Dimensions: 105*105*153mm
Item Weight: 516g
Colors: Green/Yellow/White
Charging Time: 2-2.5 hours (Fully Charged)
Working Time: 5.5 hours without stop
Ports & Connectors: Micro USB port
Battery: Built-in 2500mah rechargeable lithium battery
Speaker: Built-in high-quality speaker
Material: External enclosure made form harmless PET plastic Non-skid silicone base
Certificates: CE, FCC, CPSIA, ASTM, CA65, ISTA, UL, RoHS
Manufacturer Recommended Age: 3-8 years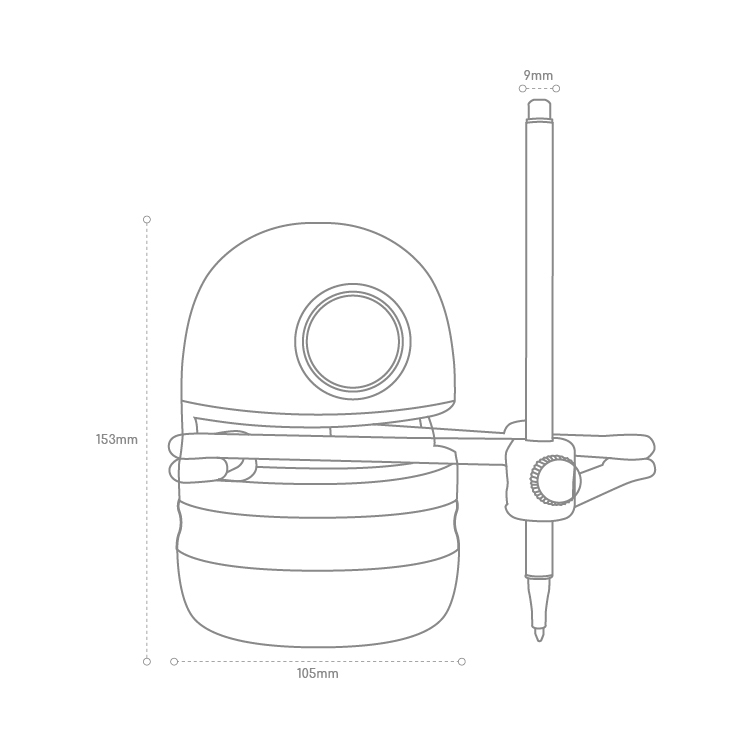 9. Packing list
Quincy drawing robot *1 / Drawing books *4 / Letter Cards *26 / Picture Cards *24 / Number Cards *10 / Math Challenge Cards *4 / User manual *1 / UBS cable *1 / Pens *2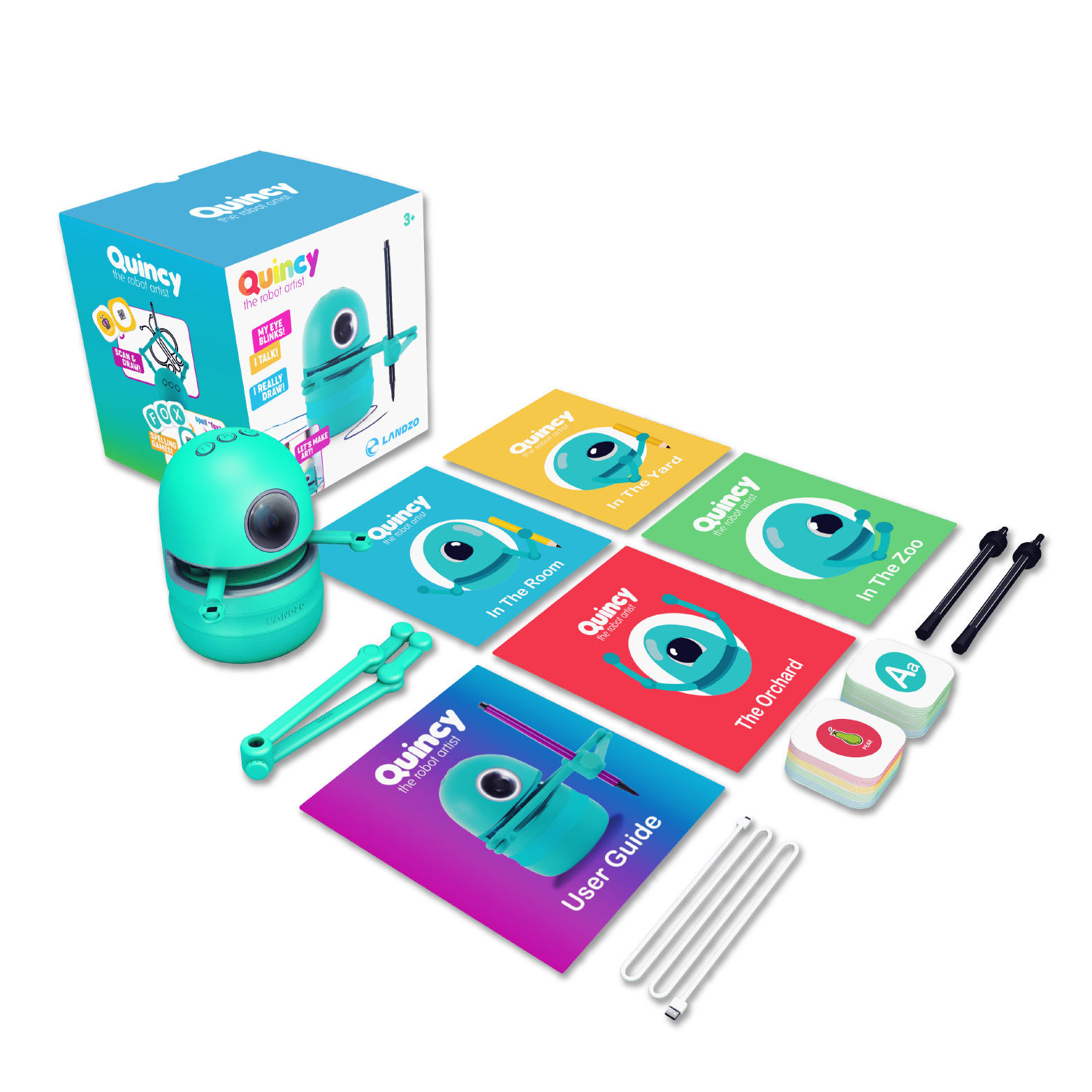 10. FAQ
1. What will this robot do?
Quincy will teach kids drawing, spelling words, and counting. It will show, talk and explain step by step how to finish each picture. They are always developing more.
2. Will my child learn drawing with this robot?
Quincy will show and talk how to draw step by step, which is easier for kids to follow and learn. Once kids is done, press the button then it will continue drawing.
3. Can this drawing robot create your own image and have it draw it?
No. The Quincy robot can only recognize the content of the card.
4. Will my 6-year-old like this robot toy as a gift?
Yes, the drawing robot is perfect as a gift for 6 year olds and it will be a smart partner to kids.
5. Can I use my marker?
Yes, as long as the diameter of the marker will fit in the holder.